About VIMTV
The Dawn of VIMTV
A travesty has occurred in the world of music analysis; music reviewers have lost touch with music.  Or at least that's the opinion of the minds behind VIMTV, Jake Jackson and Tom Hummer.  As 2009 drew to a close, Jake and Tom mapped out plans to change this once inevitable fate.  Their solution: Video Reviews. One shot. Honest. Passionate. Unrehearsed. Jake and Tom feel that through a visual medium, they will be able to provide an astute analysis of the new music of the day while simultaneously smashing through current reviewing dogmas by letting their excitement and pure passion for music shine through in every review.  But who are these two crazy guys?  Well, they aren't too different from yourself, and that happens to be the whole point…
All About That Guy Jake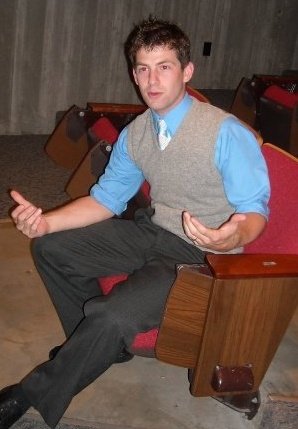 Jake's love for music started at an early age.  Like most music enthusiasts with responsible parents, Jake's dad made it a mission when Jake was nine to get him to stop listening to the local pop radio station and started to teach him the classics like Led Zeppelin and Pink Floyd.  That little push was all Jake needed, and thus ensued an endless cycle of getting up every day and listening to headphones until he fell asleep at night.  Thus, this constant exposure to music provided opportunity for Jake to study a variety of genres; from the 90's pop roots  to classic rock, modern rock, hip-hop,  jazz, classical, rat pack, and even a little country (thanks to a couple of childhood girlfriends).
However, none of these spastic changes in musical preferences ever really took hold until one day when Jake's very good friends Thom Hummer and Quinn Eggink pushed Jake into a car and forced him to listen to Radiohead.  Once again, Jake was musically enlightened by the suggestions of those who know what is best for him and gained not only a favorite band, but led to a new and permanent passion; indie rock.
Studying music now took on a whole new role.  Since a lot of indie rock is personal to the artist and very conceptual, it became evident to Jake that to truly understand the music he was listening to he would need to do thorough research of lyrics and band history.  This drew him to various music review websites, which provided a wealth of information.  However, Jake soon realized that a significant percentage of the reviews he read were of poor quality.  Most clearly indicated that the reviewer hadn't listened to the particular album they were reviewing enough or done sufficient research to truly grasp the music and soak it all in and were therefore unable to give an adequate evaluation.  In addition to this, Jake was dissatisfied by the politics involved with different music review companies.  Many just cut and pasted what another guy said and there were always those reviewers who panned any album that got halfway decent reviews.
Clearly, something had to be done.  The lack of integrity and personality behind music reviews was appalling.  No one seemed to be able to simply say "I like this."  Objectivity appeared mandated across reviewers.  Shouldn't everyone have the ability to say "I like this and here is why," confronting their inevitable humanity in each review?  Jake's beliefs are this:  you are human, you have emotion and coupled with logic, we can do anything.  Denying our basic human instincts in regards to music listening is to deny our ability to listen, and more importantly to understand exactly what we are listening to.
Kurt Vonnegut once wrote that "Music is our proof that God exists."  Regardless of your religious beliefs, and no matter who you are, music affects you.  There is no person on this planet that doesn't have a favorite song that they have to crank up and dance a little to when they hear it.  It is because of this that it's absolutely necessary that we factor in personal emotion when evaluating our musical tastes. That being said, Jake's love for music and especially indie rock has provided him with distinct tastes of his own.  Mood, technical ability, lyrics and ingenuity are all traits important to Jake when examining a new album, but none are more meaningful to Jake then songwriting.  The design elements of an album are easily what sways Jake and also leads him to be keen to themed or cohesive albums where each individual track is influenced by other tracks on an album.
Jake believes that the doldrums of music reviewing needs to end; that an element of life demands to be inserted into reviews, like using a bellows on a fire.  This is why Jake and his good friend Thom have turned to video reviews.  They believe that a video blog of a person reviewing music will help capture more of the personal preference, emotion and therefore the humanity behind the music.  It is Jake's promise to you that he will never evaluate an album impartially and he will always insert his personal bias, but with reason.  He will always be honest about his thoughts and opinions and encourage others to expand their musical tastes while still allowing them to like what they like for the reasons that they like it.
All About That Guy Tom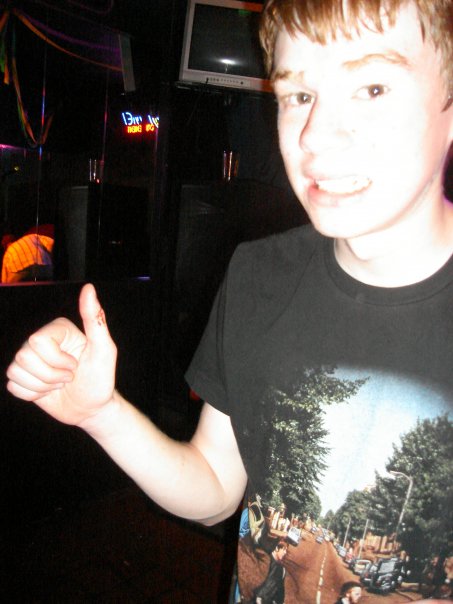 Tom grew up in a very musical family. His father had a guitar, a keyboard, and a home recording studio that Tom familiarized himself with as early as 2nd grade. As the youngest of four boys, Tom also saw his older brothers playing instruments such as bass, violin, trombone, tuba, and trumpet, and he was very eager to explore as many musical outlets as he could.
Up to this age, Tom's musical appreciation only stretched as far as The Beatles, Led Zeppelin, Pink Floyd, and whatever was playing on the Pop/Rock radio stations of the time. Then, when Tom was in 3rd grade, his older brother Pat got a job and began spending a majority of his earnings on music. Tom listened to all the CDs his brother bought and immediately fell in love with artists such as Metallica, R.E.M., Nine Inch Nails, Beck, Soundgarden, Tool, 311, and The Offspring. While this opened the door to Tom's zeal for music, that zeal swiftly grew into an addiction that his brother's part-time job could no longer keep up with. Tom quickly found other ways to get his musical fix, such as creating mix tapes from the radio and having his mother bring home CDs from the library where she worked.
Although the means and methods have gone through various changes, these processes have continued through the present to, for better or worse, make Tom who he is today. He appreciates a wide range of music, and while there's plenty that he doesn't like, he constantly tries to understand why—which caused him great problems when reading critics' reviews of albums. Tom believed that while countless disagreements are to be expected in the music world, one should always strive to help others understand exactly why they feel a certain way about a particular song, artist, or album. However, many of the critics didn't justify their viewpoints or even write to the audience at all; they merely seemed to be writing to themselves, abandoning any attempt to help the readers understand where the opinions were coming from.
This is especially true with artists and albums that already have a permanent seat in the musical canon. For example, almost no critics are willing to speak against Bob Dylan or The Beatles, and even when they write good things, it's rarely specific or even descriptive. It's as though "It's Bob Dylan, and Bob Dylan was very influential and wrote a lot of deep songs that are relevant to the time," is enough to explain his music. Not many people bother to go much deeper than that because they don't feel the need to. After all, Bob Dylan has already been accepted as a timeless, terrific artist, so why say anything more? Too many critics are too afraid to disagree with these views, and as generations pass, an artist or album's popularity becomes an inherited truth rather than an acquired appreciation. But the reality is that somebody needs to question these accepted facts in order to remind everybody why they became cliché in the first place, or perhaps that they shouldn't be.
For this reason, Tom Hummer and Jake Jackson have decided to do video reviews of music. Musicians put their heart and soul into their music (or at least should), so its criticism should be met with the same level of humanity. Tom and Jake won't hide behind expressionless, robotically typed words—they'll put themselves out there just like the artists they review.
Didn't find any related posts :(