Baroness
VIMTV Album Review #512: Baroness – Yellow and Green

Jake: 88/100
Tom: 93/100
Verdict:  A must-listen 2012 album.  Rock music at its best.
Overview:  Baroness's third album keeps the title color-theme going with the double album Yellow & Green, but this record provides a change in direction for the band, one that favors melody over harshness and brutal rhythm.  This shift in direction is most notable in the vocals which focus on sung melodies belted out in hard rock fashion and are often harmonized for additional dynamic effect.  The songwriting on both Yellow and Green is expansive and extremely well crafted.  Yellow takes a harder, more structured edge whereas Green focuses more on mood and atmosphere.  While this is a double album, Baroness had the foresight to make both sides one cohesive listening experience that is very easy to put on and let play out.  We felt that this album was so well written and fun to listen to that it should easily go down as one of the year's best.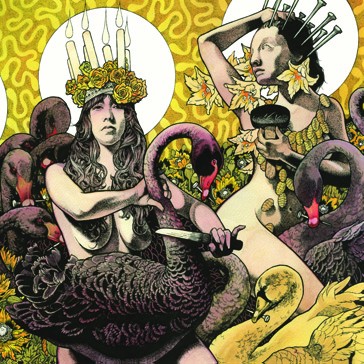 Jake's Track Picks: 
2.  Take My Bones Away

4.  Little Things

9.  Eula

2. Board Up the House

3. Mtns (Crown & Anchor)
Tom's Track Picks: 
4. Little Things

5. Twinkler

7. Back Where I Belong

9.  Eula

2. Board Up the House

5. Collapse
VIMTV Album Review #366: Baroness – Blue Record
Jake: 85/100
Tom: 83/100
Verdict: Definitely recommended if you're into heavy, progressive metal.
Overview: In general, Blue Record shows a lot of songwriting talent, and of course, stunning instrumental proficiency. The production isn't quite as crisp as some comparable albums, but instead focuses on the thick low and mid-range of the sound. All this comes together to make a complete album listen that's engaging from start to finish and doesn't rely on self-indulgent, lengthy tracks to do it.
Jake's Track Picks: 
3. Jake Leg
5. Swollen and Halo
12. Bullhead's Lament
Tom's Track Picks: 
3. Jake Leg
5. Swollen and Halo
7. A Horse Called Golgotha
VIMTV Research Links:
Jake Leg
Swollen and Halo
Baroness Interview
Didn't find any related posts :(