Blur
VIMTV Album Review #432: Blur – Modern Life is Rubbish

Jake: 87/100
Tom: 100/100
Verdict: A British rock classic with consistently stellar songwriting.
Overview: Blur's second album glorifies what it was to be British in the early 90s. Damon Albarn's storytelling lyrics celebrate the common Brit from track to track, with a wonderful variety of instrumental moods to match. The biggest downfall of this album is that it's quite difficult for most people to get into– it's very long, and will likely sound somewhat the same all the way through on first listen. However, once you start to appreciate the intricacies and unique aspects of each song, every song becomes a standout, and this album becomes hard to stay away from.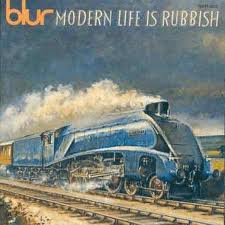 Jake's Track Picks: 
1. For Tomorrow
5. Star Shaped
10. Oily Water
11. Miss America
12. Villa Rosie
Tom's Track Picks: 
2. Advert
5. Star Shaped
9. Sunday Sunday
11. Miss America
12. Villa Rosie
VIMTV Research Links:
Star Shaped
Villa Rosie
VIMTV Album Review #338: Blur – Blur

Jake: 87/100
Tom: 100/100
Verdict: Recommended if you like Brit-rock that's noisy and unforgiving. It's also a long album, so it's even more necessary that most of the tracks are standouts, which to us, they are. However, if you are a big fan of the band's first four albums, you may be iffy on this one– it's very different.
Overview: Blur's fifth, self-titled album is a brilliant departure from their previous pop-rock classics into the realm of lo-fi and noise driven sounds. The songwriting is still just as great and catchy as the work that made them popular in the first place, but the production and attitude behind the songs make this album much more experimental and rewarding than anything they had ever done.
Jake's Track Picks: 
1. Beetlebum
5. On Your Own
8. Death Of A Party
11. Look Inside America
Tom's Track Picks: 
1. Beetlebum
5. On Your Own
7. You're So Great
8. Death Of A Party
11. Look Inside America
VIMTV Research Links:
Beetlebum
On You're Own
Blur Interview
Didn't find any related posts :(