Chevelle
VIMTV Album Review #420: Chevelle – Hats Off To The Bull

Jake: Recommended, 77/100
Tom: Recommended, 79/100
Verdict: A good stylistic move for Chevelle, and a solid album overall.
Overview: While Chevelle may never put out an album that will shock the masses with its artistry, Hats Off To The Bull, their latest effort, is impressive nonetheless. This record takes a step away from the poppier production and focuses more on the heavy riffs than the vocals. Combine this with consistently engaging rock songwriting, and you've got yourself a good Chevelle album.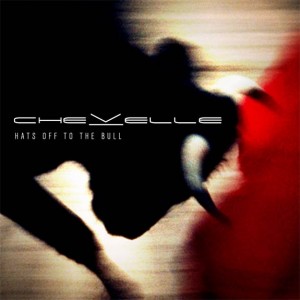 Jake's Track Picks: 
5. Pinata
7. Hats Off To The Bull
9. Revenge
Tom's Track Picks: 
3. Ruse
5. Pinata
7. Hats Off To The Bull
10. Prima Donna
VIMTV Research Links:
Pinata
Hats Off To The Bull
Chevelle Interview
VIMTV Episode #61: Chevelle – Sci-Fi Crimes

Jake: Not Recommended, 60/100
Tom: Highly Recommended, 88/100
Overview: Chevelle's fifth album finds them still rocking hard, but the emotion behind the tracks isn't as believable as some of their past efforts, as some of the melodies are a bit poppier. The songwriting is still good and the vocals are top notch, but Jake feels like the chorus melodies are generic, and that the vocals carry the instrumentals too much. Tom understands, but isn't bothered as much by it– he just likes the solid, hard-rock songwriting. Both agree that Chevelle are masters at making catchy, hard rock tunes.
Recommended Similar Artists: Breaking Benjamin, Deftones, Tool
Jake's Track Picks: 
Tom's Track Picks: 
4. Jars
5. Fell Into Your Shoes
6. Letter From A Thief
VIMTV Research Links:
Didn't find any related posts :(