Deftones
VIMTV Album Review #539: Deftones – Koi No Yokan

Jake: 78/100
Tom: 87/100
Verdict: Another solid effort from Deftones, even if it isn't one of their best albums.
Overview: After 2010's Diamond Eyes, pretty much any follow-up Deftones could provide us was going to feel at least slightly underwhelming.  Koi No Yokan shows Deftones doing what they are good at: rocking the hell out.  While it never feels like Deftones reaches their peak intensity or potential as songwriters, it never feels like they truly drop the ball either.  The guitars on this album are huge and repetitious, the drums bombastic, the bass driving and Chino's vocals are as shrill as ever.  There is a lot to like here; but this is nowhere near our discography pick for Deftones.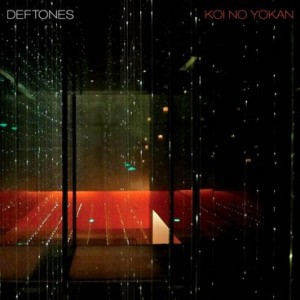 Jake's Track Picks: 
3. Leathers
4. Poltergeist
7. Tempest
9. Rosemary
Tom's Track Picks: 
1. Swerve City
3. Leathers
4. Poltergeist
10. Goon Squad
VIMTV Episode #110: Deftones – Diamond Eyes

Jake: Recommended, 81/100
Tom: Highly Recommended, 99/100
Overview: In November 2008, Deftones' bass player Chi Cheng was involved in a tragic car accident. The rest of the band decided to put their album "Eros" (which was already recorded and meant to be released in January 2009) on hold, and in the meantime wrote the material that would become "Diamond Eyes." This album is simultaneously some of the heaviest and most atmospheric work Deftones have ever done. While they really aren't treading entirely new musical territory and fall into the trap of traditional song structures, there's no mistaking that this is one of the (if not the) best album Deftones has released.
Recommended Similar Artists: Korn, Brand New, Thrice, System Of A Down, A Perfect Circle
Jake's Track Picks: 
4. You've Seen The Butcher
5. Beauty School
9. Risk
Tom's Track Picks: 
2. Prince
3. CMND/CTRL
5. Beauty School
7. Rocket Skates
VIMTV Research Links:
Rocket Skates Music Video
Diamond Eyes Music Video
Didn't find any related posts :(