The D.O.C.
VIMTV Album Review #397: The D.O.C. – No One Can Do It Better

Jake: 70/100
Tom: 80/100
Verdict: Recommended if you dig that classic hip-hop sound with great worldplay and old-school beats.
Overview: The D.O.C.'s 1989 record No One Can Do It Better is a time capsule of what was going on in the hip-hop scene of the late 80s. Produced by the one and only Dr. Dre and featuring terrific lyricism and flow, this album has earned its status as a must-listen in the rap canon. However, as throwback albums like this one catch us very far out of context, we still have to take it for what it is and be honest with our opinions. For us, having so much of only The D.O.C. behind the mic makes his style wear a bit thin by the end of the record. While there are some spots that break it up nicely (spoken interludes, the "Comm." tracks), this album begs for some good guest spots, but doesn't get them until the very end. This isn't to negate any of the well-deserved praise this album has gotten — it's just our thoughts.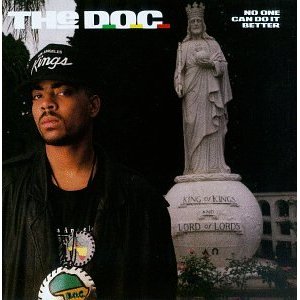 Jake's Track Picks: 
3. Lend Me An Ear
7. The D.O.C. & the Doctor
8. No One Can Do It Better
Tom's Track Picks: 
5. Let The Bass Go
6. Beautiful But Deadly
13. The Grand Finale
VIMTV Research Links:
Lend Me An Ear
Beautiful But Deadly
The D.O.C. Interview
Didn't find any related posts :(