The Dodos
Album Review 675: The Dodos – Carrier

Jake: 79/100
Tom: 80/100
Verdict:   More emotionally gripping and melody based than previous Dodos records yet not quite as masterful.
Overview:  Carrier is still very much a Dodos album, however much more emotionally based than their previous efforts due to the death of their friend and touring guitarist. You can certainly hear a poignant tone in both the vocals and guitar melodies, and this is especially reflected in the lyrics. There are a number of tracks that still sound like they belong on any previous Dodos record; these tracks focus on complicated rhythms, pounding drums, and stark dynamics.  It's the slower, moodier, and more heartfelt songs that take this album into new directions. Overall this is a high quality release, even if it did feel a little disjointed in style and message at times.
Jake's Track Picks: 
1. Transformer
2. Substance
5. Relief
11. The Ocean
Tom's Track Picks: 
1. Transformer
3. Confidence
9. Destroyer
11. The Ocean
VIMTV Episode #291: The Dodos – No Color

Jake: Recommended, 85/100
Tom: Recommended, 85/100
Overview: No Color is the sound of a band becoming more focused and comfortable in their sound than ever before. The Dodos have kept their unique style of frantic acoustic guitar against a background of frenzied rim clicks, but the nine tracks on this album show a much more mature use of song structure and melodic writing. The downsides of this album is that the vocal melodies, while well-written, aren't always that memorable, and the band seems to struggle with making the instrumentals and the vocals mesh together at times. Still, great album, check it out.
Recommended Similar Artists: Neutral Milk Hotel, Elliot Smith, Ben Folds, Vampire Weekend, Menomena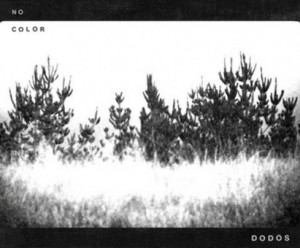 Jake's Track Picks: 
4. Sleep
8. Companions
9. Don't Stop
Tom's Track Picks: 
1. Black Night
2. Going Under
3. Good
VIMTV Episode #188: The Dodos – Visiter

Jake: Highly Recommended, 90/100
Tom: Highly Recommended, 87/100
Overview: The Dodos have really made a monster of an album with Visiter. This album jumps around between being a minimalistic folksy rock record to a swirling cacophony of drum samples and acoustic guitars. Beyond the great songwriting, fun mood, and experimental nature, one of the most beautiful things about this album is its ability to achieve what it does through real instruments and huge, lo-fi production. All this, along with how well they're able to albumize the songs into a flowing progression, really makes this album a great listen.
Recommended Similar Artists: Neutral Milk Hotel, Elliot Smith, Ben Folds, Vampire Weekend, Menomena
Jake's Track Picks: 
2. Red and Purple
4. Fools
10. Jody
13. Undeclared
Tom's Track Picks: 
2. Red and Purple
5. Joe's Waltz
8. Paint The Rust
10. Jody
Didn't find any related posts :(