Eminem
Album Review 709: Eminem – The Marshall Mathers LP2

Jake: 78/100
Tom: 79/100
Verdict: Eminem's best rapping, however the lack of consistency in production and poor choruses keep this from being great.
Overview:   Eminem's legacy as a modern rap icon was cemented in history long ago. With The Marshall Mathers LP 2 he's merely playing for bragging rights, on top of tackling familiar subject matters personal to Slim such as family issues, dealing with success and his own personality defects. This album uses a variety of producers in constructing the underbelly of the album's sound, focusing on sample-driven tracks referencing classic rock'n'roll. This gives the album a firm sense of energy while providing a foundation for Eminem to do what he does best: rap his ass off. Eminem's lyrical delivery is downright incredible; he is simply the best in the business. However, he's clearly not a songwriter, as the choruses throughout this record are devoid of personality or ideas; they simply stick to the tried and true pop formula. In the end this album is more hit than miss, but the inconsistencies in track quality and poor effort in chorus construction keep this from reaching the legendary status LP1 offered listeners.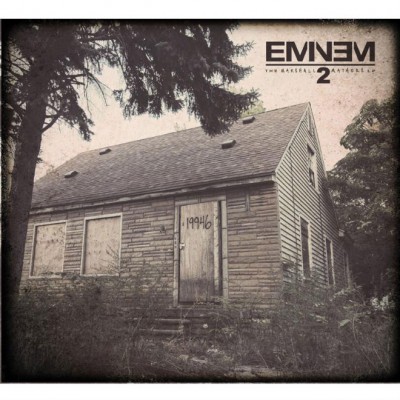 Jake's Track Picks: 
7. Asshole
8. Berzerk
9. Rap God
10. Brainless
14. Love Game
Tom's Track Picks: 
8. Berzerk
9. Rap God
10. Brainless
13. So Far
14. Love Game
VIMTV Episode #143: Eminem – Recovery

Jake: Recommended, 63/100
Tom: Recommended, 64/100
Overview: Let's face the inevitable: nothing will probably ever shake Eminem from the top of the totem when it comes to rhythm and wordplay. Unfortunately, that inevitability is the one saving grace of this album. The production takes a giant leap towards the corporate pop norms (especially on the latter half to two-thirds of the record), which is a shame when you consider that the edge Dr. Dre brought to the beats and Eminem's believably fiery demeanor was what defined him as a rap superstar. With the first of those elements absent, and the second watered down with apologetics and insecurity, Recovery proves itself to be a sub-par Eminem release. The good news is that a sub-par Eminem release is still better than a lot of today's hip-hop.
Jake's Track Picks: 
1. Cold Wind Blows
2. Talkin' 2 Myself
6. Going Through Changes
17. Untitled
Tom's Track Picks: 
1. Cold Wind Blows
4. Won't Back Down
5. W.t.p.
17. Untitled
VIMTV Episode #108: Eminem – Relapse

Jake: Recommended, 82/100
Tom: Recommended, 86/100
Overview: Eminem returns after a hiatus of drug recovery to release "Relapse," an album not for those with weak stomachs. The beats and vocal rhythms are better than ever, but the lyrics are even more over the top than his previous work. Once you get past that obstacle, this is one of Eminem's most rewarding albums to date.
Recommended Similar Artists: Dr. Dre, D12
Jake's Track Picks: 
4. Insane
6. Hello
16. Deja Vu
Tom's Track Picks: 
2. 3 a.m.
3. My Mom
9. We Made You
Didn't find any related posts :(