Gorillaz
VIMTV Album Review #324: Gorillaz – The Fall

Jake: 65/100
Tom: 70/100
Overview: Gorillaz' fourth album is all about context. Damon Albarn wrote and recorded this thing during his late 2010 tour for Plastic Beach entirely on an iPad. Given that information, it's clear that The Fall isn't going to be the most ambitious or thought-out album. However, Mr. Albarn still proves that he can make better music in his spare time than most people can after years of hard work. We doubt anybody will herald this as one of the better Gorillaz albums, but if you're a  fan of the music, it's still worth checking out because of the quality of the few highlights it has to offer.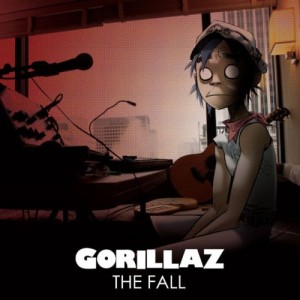 Jake's Track Picks: 
2. Revolving Doors
5. Shy-Town
6. Little Pink Plastic Bags
10. Amarillo
Tom's Track Picks: 
2. Revolving Doors
3. Hillbilly Man
5. Shy-Town
VIMTV Research Links:
Revolving Doors
Shy-Town
Gorillaz Interview
VIMTV Episode #50: Gorillaz – Plastic Beach

Jake: Recommended, 90/100
Tom: Recommended, 85/100
Overview: For Gorillaz' third album, Damon Albarn focused on mainly electronic soundscapes that create a flowing stream of tracks. At first, this bothered Tom as he prefers the more "real" sound of Gorillaz' first album, but he soon got over it once he realized that the songs are so well written. Jake liked it from the start, but liked it even better once he learned what the album is about (loosely, Damon Albarn's argument that even plastic and electronic things are a part of nature and humanity). Regardless, the guest appearances are incredible, and Albarn's knowledge of the hip-hop scene has to be admired.
Recommended Similar Artists: Does anyone really sound like Gorillaz?
Jake's Track Picks: 
3. White Flag
4. Rhinestone Eyes
Tom's Track Picks: 
4. Rhinestone Eyes
5. Stylo
12. Sweepstakes
VIMTV Research Links:
Didn't find any related posts :(