Hot Chip
VIMTV Album Review #493: Hot Chip – In Our Heads

Jake: 82/100
Tom: 80/100
Verdict: Recommended for fans of electronic music with good variety and depth.
Overview: Hot Chip's aptly titled In Our Heads is full of infectious, experimental dance music that will send your body into dancing convulsions if listened to at high volume. We hear Hot Chip toying with their art, making that retro 80s throwback sound come alive with contorted melodies and hyper beats. Hot Chip also conveys a wide variety of emotions on this record and easily shows the listener that should pay attention to the music. When they do, they are awarded with some of the best written dance music available to modern man.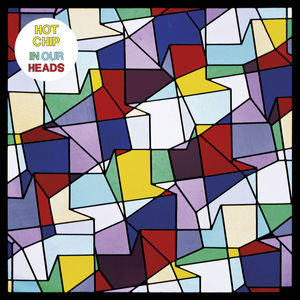 Jake's Track Picks: 
1. Motion Sickness
6. Night & Day
7. Flutes
9. Ends of the Earth
Tom's Track Picks: 
1. Motion Sickness
7. Flutes
10. Let Me Be Him
Flutes

Motion Sickness

VIMTV Episode #88: Hot Chip – Made In The Dark

Jake: Recommended, 86/100
Tom: Recommended, 82/100
-A great request by Ian Anderson.
Overview: "Made In The Dark" is probably Hot Chip at their danciest. The truly interesting thing about this album, however, is that they're able to combine these dance elements with melodic and catchy songwriting. This album has the phenomenal ability to cover the functional aspect of dance music while maintaining its status as good music that can be enjoyed anywhere at any time. One thing that pushes this concept even further for "Made In The Dark" is the fact that it effectively incorporates ballads into the album structure.
Recommended Similar Artists: Dirty Vegas, Phoenix, Ryksopp
Jake's Track Picks: 
2. Shake A Fist
8. One Pure Thought
10. Wrestlers
Note from Jake:

-Paul McCartney supposedly has helped with MGMT's Congratulations, not with Hot Chip (that we know of)
Tom's Track Picks: 
2. Shake A Fist
3. Ready For The Floor
10. Wrestlers
VIMTV Research Links:
VIMTV Episode #37: Hot Chip – One Life Stand

Jake: Recommended, 81/100
Tom: Somewhat Recommended, 69/100
Overview: With "One Life Stand," the title really says it all for the change of attitude that Hot Chip took with this new batch of their electronic-pop. They're ready to settle down and grow up, but their adolescence is still putting up a fight and making them stay true to their quirky ways. Jake thinks this album has a lot of charm and good songwriting. Tom feels that it's very hit and miss, with some of the tracks really shining while others completely miss the target.
Recommended Similar Artists: Dirty Vegas, Phoenix, Ryksopp
Jake's Track Picks: 
2. Hand Me Down Your Love
3. I Feel Better
Tom's Track Picks: 
4. One Life Stand
5. Brothers
VIMTV Research Links:
Didn't find any related posts :(