Metric
VIMTV Album Review #506: Metric – Synthetica

Jake: 73/100
Tom: 72/100
Verdict: Not as great as Fantasies, but good enough to be enjoyable if you like polished indie electro-pop.
Overview: Synthetica shows Metric experimenting with their sound.  Every track has a very specific texture that Metric was keen to sculpt to fit the underlying song structure.  A lot of the songwriting switches between the moody, introverted indie rock and more upbeat indie pop.  There are some truly beautiful, moving moments on this record; however there are some dull moments as well, especially in the middle of the album.  The usage of piano, lead guitar and synths works exceptionally well with Emily Haines's vocals creating a polarizing listening experience.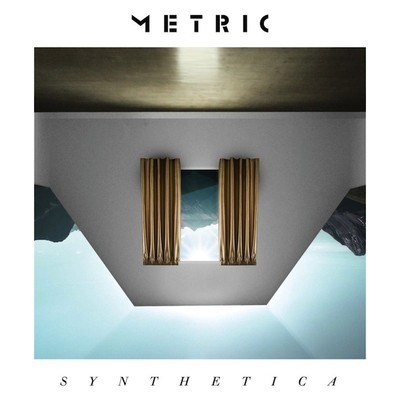 Jake's Track Picks: 
3.  Speed the Collapse

4.  Breathing Underwater

11.  Nothing But Time
Tom's Track Picks: 
1. Artificial Nocturne
2.  Youth Without Youth
4.  Breathing Underwater
VIMTV Episode #82: Metric – Fantasies

Jake: Highly Recommended, 87/100
Tom: Recommended, 84/100
-Requested by and dedicated to Coleman Jackson
Overview: Wow; the Yeah Yeah Yeah's.  That's the first thing that came to our mind listening to this album (but in a really, really good way).  Metric's Fantasies presents a great ride through rich pop songwriting driven by Emily Haines's charming vocals and the driving NYC guitars of James Shaw.  Tom loved how catchy and tactful this album is and Jake sites the great balance between electronic melodies & beats with actual instruments and thinks this is a well produced, focused play by Metric.  A great request!
Recommended Similar Artists: Yeah Yeah Yeah's, Tegan and Sara
Jake's Track Picks: 
4. Twilight Galaxy
5. Gold Guns Girls
6. Gimmie Sympathy
Tom's Track Picks: 
1. Help I'm Alive
2. Sick Muse
10. Stadium Love
VIMTV Research Links:
Youth Without Youth
Speed the Collapse
Metric interview talking about Synthetica
Didn't find any related posts :(