Moby
VIMTV Album Review #343: Moby – Destroyed

Jake: 68/100
Tom: 65/100
Verdict: Recommended if you tend to like Moby's past work, and ambient/techno/electronica in general. However, this is the kind of album to zone out to and enjoy rather than really analyze, because it's very long and unfortunately has quite a bit fluff.
Overview: Destroyed is an album that takes a lot of patience to get through. Over the 70+ minutes of sweeping, electronic crescendoes and beats that build from nothing, there is a lot of quality material and a lot of filler material. It's all about mood, and if you can get into that mood, this will be a fulfilling listen– but for those of you looking for something a bit deeper, this may not be it.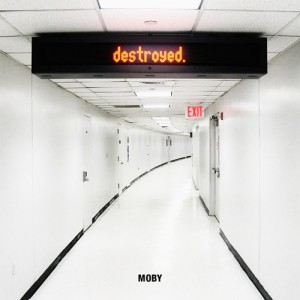 Jake's Track Picks: 
3. Sevastopol
4. The Low Hum
9. After
Tom's Track Picks: 
1. The Broken Places
9. After
11. The Right Thing
VIMTV Research Links:
The Low Hum
After
Moby Interview
VIMTV Episode #12: Moby – Wait For Me

Jake: Recommended, 82/100
Tom: Recommended, 74/100
Overview: Moby darkens his sound to the nth degree for his 2009 release, "Wait For Me." The atmosphere and mood knob is turned up to the max, but that's about the extent of the functionality of this album: perfect mood setting, but at the expense of memorable songwriting.
Recommended Similar Artists: The Orb, Massive Attack, Blue Man Group, Nick Drake (for the mood)
Jake's Track Picks: 
1. Division
3. Shot In The Back Of The Head
16. Isolate
Tom's Track Picks: 
2. Pale Horses
4. Study War
VIMTV Research Links:
Didn't find any related posts :(