Neko Case
Album Review 672: Neko Case – The Worse Things Get…

Jake: 88/100
Tom: 87/100
Verdict:   Absolute must-listen album. Neko Case at her best.
Overview:  Neko Case is an uncanny musical sensation.  At first listen, you notice her suberb voice.  It doesn't take long to realize that she is also a brilliant soloist, instrumentalist and composer.  On The Worse Things Get, the Harder I Fight, the Harder I Fight, the More I Love You, she holds nothing back.  This album is simply well crafted, from the quality of the individual tracks to how Case sculpted the fluidity of the record.  Case's vocals are top-notch as always, but the instrumental composition, especially on the more aggressive pieces, is nothing short of impressive.  Case also tackles some deeply emotional lyrical subjects as well; this provides a themed context for the whole album, giving the listener the warrant they need to really feel this album.  This is an absolute must-listen.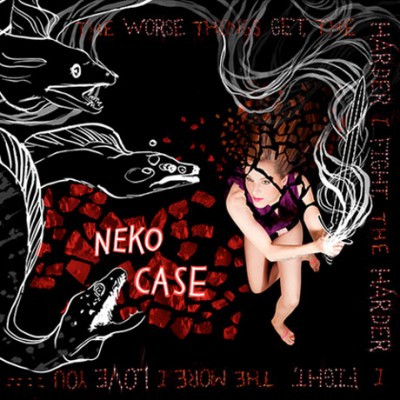 Jake's Track Picks: 
1. Wild Creatures
3. Man
5. Bracing for Sunday
8. City Swans
12. Ragtime
Tom's Track Picks: 
2. Night Still Comes
3. Man
6. Nearly Midnight, Honolulu
7. Calling Cards
10. Local Girl
VIMTV Episode #109: Neko Case – Middle Cyclone

Jake: Recommended, 84/100
Tom: Recommended, 84/100
Overview: Neko Case's latest solo effort, Middle Cyclone, is bold and personal.  Acoustic guitars (with M. Ward's assistance) and perfect female vocals take this adult contemporary/indie country crossover and make it a beautiful, rewarding listen and serves as a refreshing perspective of her abilities when compared to her work with the New Pornographers.
Recommended Similar Artists: The New Pornographers, Nick Drake, M. Ward
Jake's Track Picks: 
4. Polar Nettles
5. Vengeance is Sleeping
7. Middle Cyclone
Tom's Track Picks: 
1. This Tornado Loves You
3. People Got A Lot of Nerve
11. Prison Girls
Didn't find any related posts :(