Of Montreal
Album Review 693: Of Montreal – Lousy With Sylvianbriar

Jake: 85/100
Tom: 85/100
Verdict: A highlight of Of Montreal's discography; highly recommended.
Overview:   Of Montreal has put out 7 albums in the past 9 years, so undoubtedly there have to be albums that stand above the rest.  Their twelfth effort, Lousy with Sylvianbriar is another addition to the backlog, and a complete change in direction from the past several records.  We hear Kevin Barnes going back to his indie rock roots, stripping out any electronic elements and focusing the sound around clangy, lofi guitar.  The instrumental palette always feels tactfully lush by crafting piano, acoustic guitar, light organ and even violin into the background.  Barnes layers his vocals in his staple harmonies throughout the record providing for a colorful, embracing sound.  These tracks aren't the least bit flashy, but the songwriting is top-notch.  This is one of Of Montreal's best records and Kevin Barnes' poise is what sells it for us.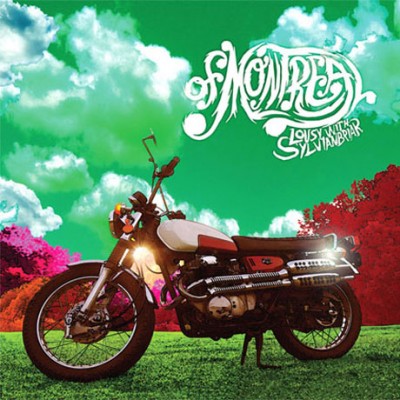 Jake's Track Picks: 
1. Fugitive Air
2. Obsidian Currents
8. She Ain't Speakin' Now
9. Hegira Emigre
Tom's Track Picks: 
2. Obsidian Currents
3. Belle Glade Missionaries
6. Triumph of Disintegration
8. She Ain't Speakin' Now
VIMTV Album Review #440: Of Montreal – Paralytic Stalks

Jake: 60/100
Tom: 59/100
Verdict: Recommended only if you are a die-hard Of Montreal fan or looking for the latest in music considered to be "obscure."
Overview: Paralytic Stalks shows Of Montreal taking their sound a little further into the realms of emotional meandering and ambience.  There are still remnants of traditional Of Montreal songwriting on this record but they seem few and far between compared to False Priest or Hissing Fauna.  Instead, Kevin Barnes directs you through stream-of-consciousness soundscapes by use of more aggressive vocals and emotive, desperate lyrics.
Jake's Track Picks:
2. Spiteful Intervention

3. Dour Percentage

6. Ye, Renew the Plaintiff
Tom's Track Picks:
3. Dour Percentage

4. We Will Commit Wolf Murder

9. Authentic Pyrrhic Remission
VIMTV Album Review #348: Of Montreal – The Gay Parade

Jake: 96/100
Tom: 88/100
Verdict: Highly recommended to anyone who loves indie-pop, great storytelling lyrics, and doesn't mind a little flamboyance.
Overview: The Gay Parade is a terrific collection of indie-pop tunes that take lyrics and concept to the next level. Each song works off the others to create a cast of characters that highlight the mundane, everyday, and sometimes depressing aspects of life. All this, of course, is set against the background of upbeat, sugary-sweet compositions, the contrast of which gives this album a depth that hardly any other record in its genre has achieved.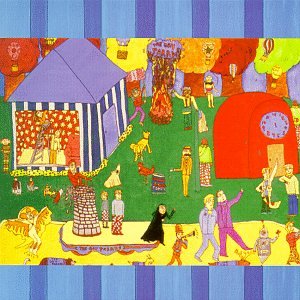 Jake's Track Picks:
3. Tulip Baroo
9. The Autobiographical Grandpa
11. My Friend Will Be Me
15. Nickee Coco and the Invisible Tree
Tom's Track Picks: 
1. Old Familiar Way
2. Fun Loving Nun
6. Neat Little Domestic Life
VIMTV Episode #193: Of Montreal – False Priest

Jake: Recommended, 87/100
Tom: Highly Recommended, 90/100
Overview: Of Montreal doesn't take as much of a departure from their old sound on False Priest as you may initially think. The only change is that the style is even funkier than usual, and Kevin Barnes sings in his falsetto more than usual. Other than that, the instrumental chops are even better than ever (BASS AND DRUMS!!!) and Kevin Barnes's vocals fit perfectly through pretty much the whole album. The only downside is that while the songs are all good, by the end of the album they haven't worked into an "album" format as fluidly as we would have hoped. False Priest is just a little too long, which is odd for an album with so many good songs.
Recommended Similar Artists: The Apples in Stereo, The Decemberists, Phoenix, Janelle Monae, Parliament, Prince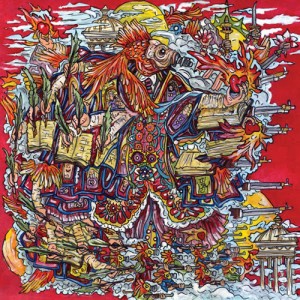 Jake's Track Picks:
3. Coquet Coquette
4. Godly Intersex
7. Like A Tourist
11. Casualty Of You
Tom's Track Picks: 
1. I Feel Ya Strutter
2. Our Riotous Defects
3. Coquet Coquette
9. Girl Named Hello
VIMTV Episode #114: Of Montreal – Satanic Panic in the Attic

Jake: Highly Recommended, 98/100
Tom: Highly Recommended, 95/100
Overview: As the bridge between the two main branches of style regarding Of Montreal's discography, Satanic Panic in the Attic defines fun, talented indie album.  Playful lyrics wrapped in fantastic songwriting with great guitar and bass lines make this album a groovy summertime blast.  Definitely a VIMTV favorite.
Recommended Similar Artists: The Apples in Stereo, The Decemberists, Phoenix
Jake's Track Picks: 
3. Will You Come and Fetch Me
5. Rapture Rapes the Muses
6. Eros's Entropic Tundra
7.  City Bird
Tom's Track Picks: 
1. Disconnect the Dots
5. Rapture Rapes the Muses
6. Eros's Entropic Tundra
13. Spike the Senses
Didn't find any related posts :(