Panic! At The Disco
VIMTV Episode #305: Panic! At The Disco – Vices & Virtues

Jake: Partially Recommended, 63/100
Tom: Not Recommended, 52/100
Overview: Well, they certainly have added the "!" back to their name, as on Vices & Virtues, Panic! At The Disco goes back to the dance/rock/pop sound that helped get them popular in the first place. A lot of people will probably like this, and many others will hate it, and we're somewhere in the middle. There is definitely a huge loss of maturity (and a loss of half the original band members) between this album and Pretty. Odd., but there are still some good songs on here. Unfortunately, those gems don't quite make up for unoriginality, bad lyrics, and the occasionally terrible track.
Recommended Similar Artists: Motion City Soundtrack, The Beatles, Fallout Boy, Modest Mouse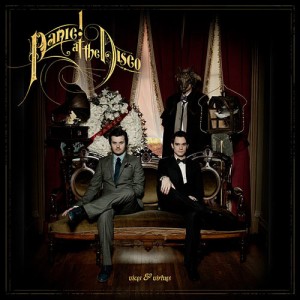 Jake's Track Picks: 
1. The Ballad Of Mona Lisa
2. Let's Kill Tonight
9. Sarah Smiles
Tom's Track Picks: 
7. Always
8. The Calendar
9. Sarah Smiles
VIMTV Research Links:
The Ballad Of Mona Lisa
Sarah Smiles
Panic! At The Disco Interview
VIMTV Episode #45: Panic at the Disco – Pretty. Odd.

Jake: Partially Recommended, 70/100
Tom: Recommended, 81/100
Overview: After Panic! At The Disco's first major release, "A Fever You Can't Sweat Out," they made what is arguably one of the biggest stylistic changes that has ever been made between a debut and sophomore album. They dropped the electronic and powerchord based emo attitude and went for a folk-indie Beatles-esque sound. Do they pull it off? In short, yes. As Jake points out, however, the lyrics are a bit lacking when compared to the depth of the music, but overall, this album shows an adept musical awareness that is wonderfully shocking when taken in context with their first album.
Recommended Similar Artists: Motion City Soundtrack, The Beatles, Fallout Boy, Modest Mouse
Jake's Track Picks: 
2. Nine In The Afternoon
12. Folkin' Around
Tom's Track Picks: 
2. Nine In The Afternoon
5. That Green Gentleman (Things Have Changed)
7. Northern Downpour
VIMTV Research Links:
Didn't find any related posts :(