Peter Bjorn & John
VIMTV Episode #303: Peter Bjorn & John – Gimme Some

Jake: Recommended, 76/100
Tom: Recommended, 79/100
Overview: Peter Bjorn And John's latest features a similar quality of catchy tunes as any of their previous work. Where Gimme Some differs is its more raw and straightforward presentation and its use of punk/post-punk guitars. This certainly isn't their best work, but it stands as a worthy addition to a discography that has yet to disappoint.
Recommended Similar Artists: The New Pornographers, The Shins, Echo & The Bunnymen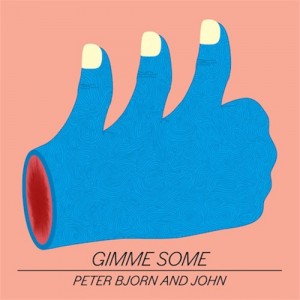 Jake's Track Picks: 
1. Tomorrow Has To Wait
3. Second Chance
6. May Seem Macabre
Tom's Track Picks: 
3. Second Chance
6. May Seem Macabre
11. I Know You Don't Love Me
VIMTV Research Links:
Second Chance
May Seem Macabre
Peter Bjorn And John Interview
VIMTV Episode #18: Peter Bjorn & John – Living Thing

Jake: Recommended, 80/100
Tom: Recommended, 86/100
Overview: After the hype that their previous album, "Writer's Block," received, this Swedish trio didn't let the attention get to their heads. Instead of making "Writer's Block Part 2," they stripped down the indie guitar-bass-drum sound and went for a more rhythmic, sample based approach. With infectious beats and memorable vocal melodies, this album is fun, yet dark, and charming from front to back.
Recommended Similar Artists: Andrew Bird, Radiohead, The Shins
Jake's Track Picks: 
7. I Want You!
12. Last Night
Tom's Track Picks: 
2. It Don't Move Me
3. Just The Past
4. Nothing To Worry About
VIMTV Research Links:
Didn't find any related posts :(