Phosphorescent
VIMTV Album Review 589: Phosphorescent – Muchacho

Jake: 76/100
Tom: 80/100
Verdict: A very focused, polished effort from this indie folk band.  Recommended.
Overview:   Muchacho is definitely a maturing step for Phosphorescent.  Here they show great attention to detail in crafting their slow-paced indie folk sound, combining horns, piano, steel guitars and bass with thin, whimsical vocals.  They focused more on the album listening experience with Muchacho and even bookended the album with "Sun, Arise!" and "Sun's Arising".   Still, these songs don't accomplish much more than establishing a sound; the individual tracks don't evolve or take the listener to anywhere new.  This makes the record hard to get excited about, although it's still a very enjoyable listen.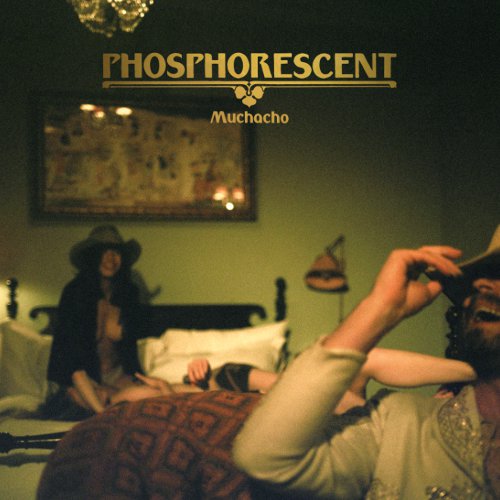 Jake's Track Picks: 
3. Ride On / Right On
7. A New Anhedonia
8. The Quotidian Beasts
Tom's Track Picks: 
2. Song for Zula
3. Ride On / Right On
6. Muchacho's Tune
VIMTV Episode #185: Phosphorescent – Here's To Taking It Easy

Jake: Recommended,  74/100
Tom: Recommended,  72/100
Overview: Phosphorescent is the indie/alt-country project of Matthew Houck. This album is a great example of pleasant, rainy day music that probably won't blow your mind but will certainly put you in an enjoyably relaxed mood. The songwriting has a lot of variation and engaging multi-instrumentality, and the production suits the style perfectly. A good album, but certainly nothing groundbreaking.
Recommended Similar Artists: Dr Dog, Clem Snide, The Mountain Goats, Blitzen Trapper, Plants and Animals
Jake's Track Picks: 
3. We'll Be Here Soon
4. The Mermaid Parade
7. Hej, Me I'm Light
Tom's Track Picks: 
2. Nothing Was Stolen
5. I Don't Care If There's Cursing
9. Los Angeles
VIMTV Research Links:
"It's Hard to be Humble" Music Video:
"Nothing Was Stolen" Live:
Phosphorescent 2010 Interview:
Didn't find any related posts :(