Plants And Animals
VIMTV Album Review #455: Plants and Animals – The End of That

Jake: 71/100
Tom: 69/100
Verdict:  A lackluster release from an indie/folk-rock band that's searching to grow their sound.

Overview:  Whereas Plant's and Animals' first two records were composed of the bowels of fresh jam sessions, the eleven tracks comprising The End of That were written in a much more planned and designed process.  In turn, Plants and Animals have given us some of their best and most mature work to date; along with some clear misses. You still have the great folk instrumentation and Fleet Foxes-esque songwriting.  You still have the channeling of the ethereal energy that seems to drive the band. But there is a tone of sadness with mixed optimism on this record.  Aptly titled, The End of That shows the band maturing, leaving behind their days of newfound stardom and heading into a world where their music needs to reach another level or the band will be left in the dusts of time.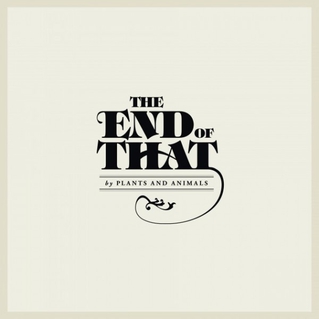 Jake's Track Picks: 
4. Lightshow
8. Why & Why
9. Control Me
11. Runaways
Tom's Track Picks: 
4. Lightshow
6. 2010
9. Control Me
Lightshow
Control Me
VIMTV Episode #135: Plants And Animals – La La Land

Jake: Recommended, 83/100
Tom: Recommended, 76/100
Overview: The folk-rock jamster trio Plants and Animals really switch things up for their second LP "La La Land."  Whereas "Parc Avenue" drew more on classic rock influences and traditional rock jam outs, La La Land gives a bit more structure and turns every knob down from 11 to about 5.  Its the quietness of this album that gives it it's endearment, which is comes more rewarding with each listen.  VIMTV feels that this one is a grower and gets better with each subsequent listen; especially the back half.
Recommended Similar Artists: Wolf Parade, My Morning Jacket, Grizzly Bear, The Arcade Fire
Jake's Track Picks: 
4. Undone Melody
5. Kon Tiki
8. Fake It
11. Jeans Jeans
Tom's Track Picks: 
5. Kon Tiki
7. The Mama Papa
8. Fake It
VIMTV Research Links:
Jake: Recommended, 81/100
Tom: Recommended, 79/100
-Requested by and dedicated to Quinn
Overview: For Plants and Animals' debut album (Tom was wrong– it is their first), they certainly display a significant amount of musicianship and technical ability. While the songwriting may not be entirely developed, it doesn't take away too much and rather provides a jam-band feel at times. Overall, this is a good album that will expand any listeners musical horizon, but it may not grip you as much as some of its contemporary counterparts.
Recommended Similar Artists: The Arcade Fire, Phish, My Morning Jacket, Wolf Parade, Neil Young, M. Ward
Jake's Track Picks: 
2. Good Friend
6.  New Kind of Love
8.  Mercy
Tom's Track Picks: 
2. Good Friend
3. Faerie Dance
6. New Kind Of Love
VIMTV Research Links:
Didn't find any related posts :(