Punch Brothers
VIMTV Album Review #447: Punch Brothers – Who's Feeling Young Now?

Jake: 79/100
Tom: 83/100
Verdict: Recommended for fans of bluegrass instrumentals and indie-pop songwriting.
Overview: It would be a mistake to call Who's Feeling Young Now? a bluegrass album, but there's certainly an element of bluegrass in the sound. Along with the lush acoustic instrumentals, the vocals are very smooth and powerful– almost too much. This sound almost demands something a bit rougher and more real, and the vocal style brings a pop sentimentality to it that doesn't always fit. Still, this is a very good album with a unique blend of sounds and styles.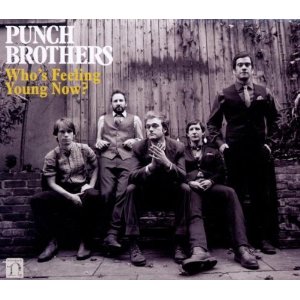 Jake's Track Picks: 
1. Movement and Location
3. No Concern of Yours
6. Flippen (The Flip)
11. Kid A
Tom's Track Picks: 
3. No Concern of Yours
4. Who's Feeling Young Now?
5. Clara
11. Kid A
12. Don't Get Married Without Me
Movement and Location

Kid A

Didn't find any related posts :(