R.E.M.
VIMTV Episode #292: R.E.M. – Collapse Into Now

Jake: Not Recommended, 64/100
Tom: Sort of Recommended, 67/100
Overview: As R.E.M.'s 15th studio album, Collapse Into Now features a few great songs and unfortunately a lot of forgettable ones. This is truly a case of the hype purely coming from the name they've already made for themselves over the last 20+ years, and while this album isn't painful to listen to, it just doesn't do much. Plus, the lyrics are generally quite putrid and distracting. Recommended for fans of the band who will listen to everything they do anyways, but not recommended as a starting point for those who are just now jumping on the R.E.M. bandwagon.
Recommended Similar Artists: The Smiths, The Replacements, The Decemberists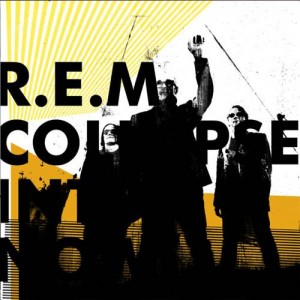 Jake's Track Picks: 
1. Discoverer
3. Uberlin
8. Walk It Back
Tom's Track Picks: 
3. Uberlin
6. Every Day Is Yours To Win
10. That Someone Is You
VIMTV Research Links:
The Making of Collapse Into Now:
"Mine Smell Like Honey" Studio performance:
Didn't find any related posts :(