Rogue Wave
VIMTV Album Review 627: Rogue Wave – Nightingale Floors

Jake: 71/100
Tom: 71/100
Verdict: Not bold enough nor well produced to be considered grand; merely mildly enjoyable
Overview: Nightingale Floors is mark of cumulative success for Rogue Wave.  As this indie rock outfit have grown and experimented with their sound and identity, they've worn many hats; all of which seem to be accounted for on this latest LP.  This album has a way of co-mingling intimate indie rock croons with more all-out guitar attacks, yet somehow they are able to keep the sound balanced out.  Still, there aren't many tracks that really stand out as fantastic and some significant production issues make this a bit harder to keep loving over and over after the initial allure wears thin.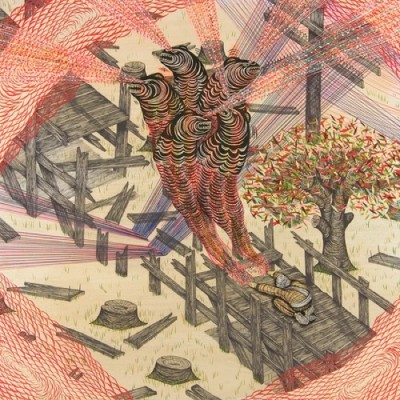 Jake's Track Picks: 
2. College
4. Siren's Song
7. Used to it
8. Without Pain
Tom's Track Picks: 
3. Figured it out
4. Siren's Song
8. Without Pain
VIMTV Episode #150: Rogue Wave – Permalight

Jake: Recommended, 77/100
Tom: Recommended, 79/100
Overview: Things may have moved toward the electronic, over-polished sound for Rogue Wave's latest release, but this time it's not necessarily a bad thing. These songs offer some of the catchiest, most feel-good melodies that indie-pop has to offer. Overall, this is a very enjoyable album, but due to the slump of the last cluster of tracks and the fact that the album just doesn't give a good deal of variety, it's just short of being really great.
Recommended Similar Artists: Band of Horses, Belle and Sebastian, The Arcade Fire
Jake's Track Picks: 
1. Solitary Gun
5. Permalight
8. We Will Make A Song Destroy
Tom's Track Picks: 
1. Solitary Gun
2. Good Morning (The Future)
4. Stars And Stripes
6. Fear Itself
Didn't find any related posts :(