Silversun Pickups
VIMTV Album Review #485: Silversun Pickups – Neck of the Woods

Jake: Recommended, 80/100
Tom: Recommended, 80/100
Verdict: A good progression of Silversun Pickups' sound, and a recommended album if you like solid rock music with smart electronic elements.
Overview: Anyone who has ever compared Silversun Pickups' sound to Radiohead has been proven correct with the release of Neck of the Woods.  With the intent of making an album suitable for a horror movie soundtrack, the Pickups tackled their third album by taking their signature driving bass lines and austere guitars and melding them with more synths and electronic beats, in order to form a sound focused on providing intense atmosphere to compliment the climactic builds. We found that the added dimension really helped the band's sound by adding focus to their builds and filling out every track's excessive track length with more functional songwriting.  Neck of the Woods is an intense, aesthetic listen that will get your head bobbing and adrenaline rushing; exactly what the band was going for.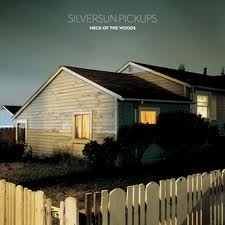 Jake's Track Picks: 
2. Make Believe
4. Busy Bees
6. Mean Spirits
Tom's Track Picks: 
2. Make Believe
3. Bloody Mary (Nerve Endings)
4. Busy Bees
6. Mean Spirits
Make Believe

Busy Bees

VIMTV Episode #8: Silversun Pickups – Swoon

Jake: Recommended, 78/100
Tom: Recommended, 90/100
Overview: Jake and Tom are joined by special guest Pat Hummer to talk about Silversun Pickups' second major release, "Swoon." Here the band has gotten more album oriented, going for more flowing vibes than strength in individual tracks. Tom and Pat like this a lot, but Jake still favors SP's first release, "Carnavas," for its unique songwriting. Jake also feels like vocalist Brian Aubert didn't put enough force into his voice to really pack a punch as an album. Still recommended, however!
Recommended Similar Artists: My Bloody Valentine, Smashing Pumpkins, Radiohead
Jake's Track Picks: 
6. Draining
9. Catch & Release
Tom's Track Picks: 
2. The Royal We
3. Growing Old Is Getting Old
4. It's Nice To Know You Work Alone
VIMTV Research Links:
Didn't find any related posts :(