Tegan & Sara
VIMTV Album Review #570: Tegan & Sara – Heartthrob

Jake: 72/100
Tom: 72/100
Verdict: A pretty significant shift to an electronic dance/pop record, and it's pretty decent!
Overview: What a huge change in sound.  For their seventh record, Tegan & Sara shift to a poppier, more electronic, dance sound.  Heartthrob is more direct and emotional than the band's earlier work in almost every way.  The vocals are more dramatic, the lyrics have lost many of their metaphors and the electronic elements are simply more emotive.  It's a different direction, but Tegan & Sara are skilled songwriters and know how to write exceptional vocal melodies.  Their strengths are still able to shine through here, regardless of the shift in sound.  Still, Heartthrob doesn't fully grasp our respect due to too much disparity between the quality of the tracks.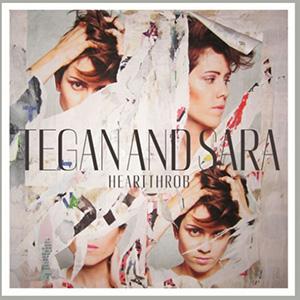 Jake's Track Picks: 
8. Love They Say
9. Now I'm All Messed Up
10. Shock to Your System
Tom's Track Picks: 
5. Drove Me Wild
6. How Come You Don't Want Me
10. Shock To You're System
VIMTV Episode #69: Tegan & Sara – Sainthood

Jake:  Recommended, 85/100
Tom:  Highly Recommended, 89/100
Overview: Tegan & Sara are a Canadian indie duo made up of the sisters Tegan and Sara Quin. On Sainthood, the two sisters meld a variety of musical styles such as indie pop, punk rock and electronica into a beautiful array of 13 powerful and fun songs that place this album as one of the best of 2009 according to Tom.  Jake thinks Sainthood is great but is lacking just slightly in concept and sentimentality.  Either way, Tegan & Sara have presented a solid album with Sainthood that has a little something for everyone.
Recommended Similar Artists: Metric, The Yeah Yeah Yeahs, Mates of State, Death Cab for Cutie
Jake's Track Picks: 
4.  On Directing
8.  Night Watch
9.  Alligator
12.  Sentimental Tune
13.  Someday
Tom's Track Picks: 
2.  Don't Rush
3.  Hell
9.  Alligator
12.  Sentimental Tune
13.  Someday
VIMTV Research Links:
Didn't find any related posts :(